Made of environmentally friendly material, the fluorescent transfer paper developed by our company is harmless to human body. This product can be used for all color inkjet printers with waterbased ink. And it@s suitable for transferring images onto textile like t-shirts, hats, cushions, handkerchief, bags,ect.本产品安全无毒,可用各种水性墨水打印,适用于棉、化纤等纺织品,可用于制作个性化T恤、帽子、包等,烫印制作的图案,白天呈现精美的照片及彩色图案,晚上(黑暗状态下)印制好的图案散发靓丽的黄绿色光芒,实现神奇的荧光效果。小贴士:个性化烫画材料在正式使用前,应做好测试,测试合格后方可正式使用,我司不承担外延损失。
1. Introduction
Fluorescent Inkjet Transfer Paper is our newly developed digital printing transfer paper with fluorescence effect. Patterns transferred with this paper shows colorful personalized image in the daytime, while in the evening (or in dark) they present brightly yellow-green light, realizing a magic fluorescence effect. Any image and textiles of any color can be transferred with this effect. Thus they are particularly suitable for dark occasions like bars, cinemas, concerts, disco and fans' paties.
This paper simply uses desktop inkjet printers and easily operated. Just print the designed image on the paper, and then transfer it onto textiles. In addition, there is no special requirement to the printer's ink. Common dye ink, heat transfer ink, pigment ink are all right, like Hongcai, Lingsegui, Baiduxi, etc.
2. Specification
A4 297mm×210mm
A3 420mm×297mm
3. Operation Instructions
◆ Printing
-Printer setup. Any colored inkjet printer is suitable. In printer setup, recommend to select "Photo Quality Inkjet Paper" mode for satisfactory printing results.
◆ Cutting
-After drying, cut out the image.
◆ Transferring
-Preheat the heat press machine to 150OC~165OC.
-Peel the transfer film from the base paper.
-Place the coating onto the textile with the printed (image) side facing upwards.
-Put a sheet of isolation paper onto the image, with the glossy side of the isolation paper facing towards the image.
-Transfer for 20-30 seconds and then remove the textile, peel the isolation paper after cooled.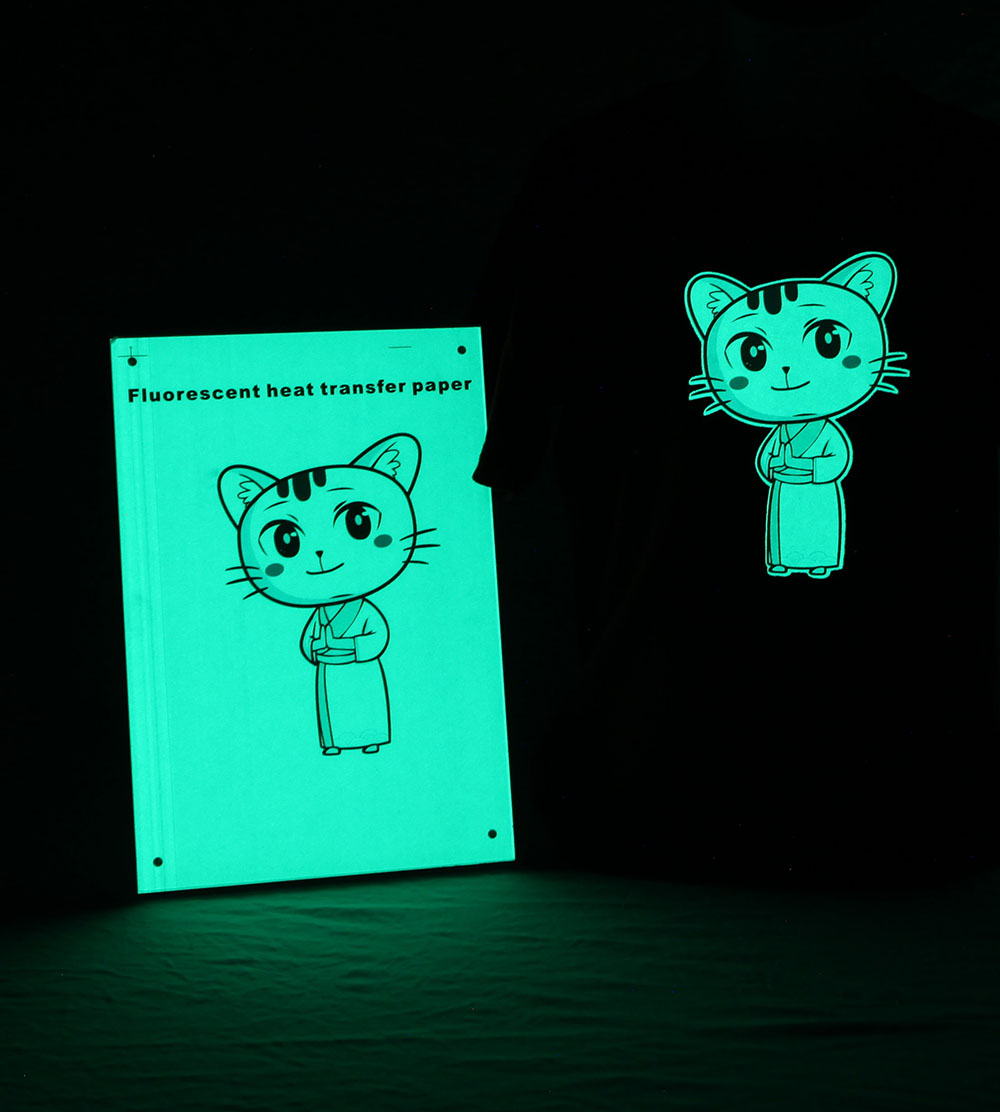 ◆ Washing
-It's best not to wash the textile in 24 hours after transferring.
-Washing the textile in cold or warm water under 40℃. Do not wash with strongly alkaline detergents or bleach. Avoid rubbing the transfer pattern when hand washing. Do not wring. Line dry in shade recommended.
-Do not dry-clean.